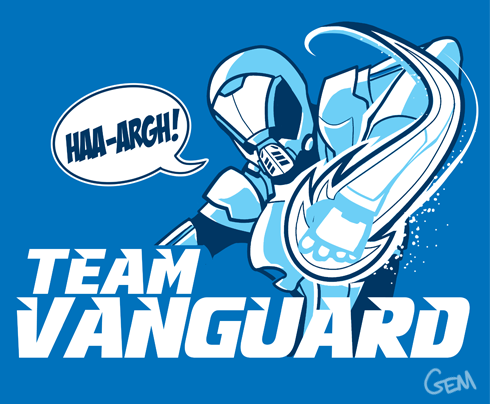 You might have noticed a distinct downturn in posting activity on this site. The blame for that can be placed solely on ME3's new multiplayer feature. We're on Xbox Live every other night anymore, giving Cerberus what-for and telling them exactly where they can put their Indoctrination Devices.
I usually play Asari Adept because I'm a sniper at heart. But last night @regeener, @tea_bird, and @SubitoAllegra convinced me to play on an all-Vanguard squad.
It. Was. Awesome.
Long story short, we started a Twitter hashtag, and I made us a t-shirt*:
I highly recommend playing on Team Vanguard. You hear an awful lot of screaming, and even more shouts of "MY GOD THAT'S A TURRET WHY DIDN'T WE BRING ANYONE WITH TECH POWERS." Fun for the whole family!
* NOTE: T-shirt cannot be worn during cooldown.